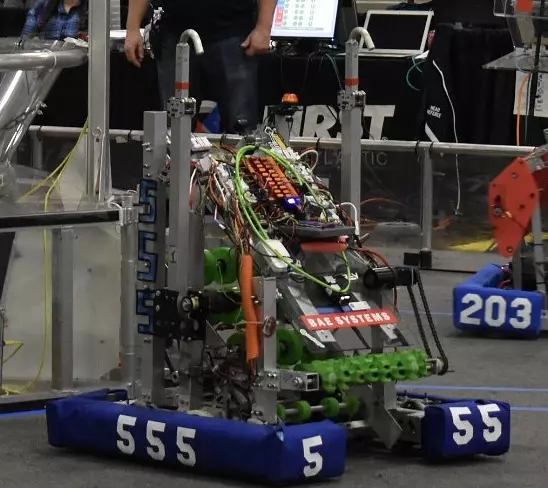 Photo by William Penn
Big Jim is Here To Give Us The Big Win!
If you're unfamiliar with the game, check out the animation here!
https://www.youtube.com/watch?v=LgniEjI9cCM
Complete with six neo tank motors, four omni wheels, two solid rubber wheels, and a combination of neo and Falcon 500 brushless motors, Big Jim is ready to speed into competition season with his 10.82:1 Evo Slim gearboxes!
An internal green compliant wheels powered by a neo brushless motor allows Big Jim to speedily pick up cargo from the ground. Our transport consists of rows of green compliant wheels powered by a Falcon 500 brushless motor via a chain.
Standing at 45.5 inches (max height 61″), Big Jim's rale gun style shooter powered by two neo brushless motors allow him to shoot balls into the lower hub with near 100% accuracy!
His climb time is an impressive 15 seconds per rung, and uses a 2 falcon WCP telescope system! With his hand bent and welded hooks, Big Jim proves that working smarter rather than harder pays off!
Want to know more about our team? Click the button below!