How Many FLL Teams are there in Montclair?
Right now, there are 4 Montclair FLL Teams: The Glenfield Gladiators (Glenfield Middle School), Buzz Aldrin ETC (Buzz Aldrin Middle School, Cobots (Montclair Cooperative School), and TORN (Renaissance Middle School).
Current FLL Mentoring
In the past few years, our team has mentored several local FLL teams. Currently we mentor:
The Glenfield Gladiators (Glenfield Middle School)
Buzz Bots (Buzz Aldrin Middle School)
The Cobots (Montclair Cooperative School)
By assisting these teams during both the season and offseason period, we have been able to help them grow and improve! These 3 teams have all participated in competitions at the regional level and have gone on to the state competition.
Do You Have an FLL Team You'd Like Montclair Robotics to Mentor?
FIRST® LEGO® League guides youth through STEM learning and exploration at an early age. From Discover, to Explore, and then to Challenge, students will understand the basics of STEM and apply their skills in an exciting competition while building habits of learning, confidence, and teamwork skills along the way.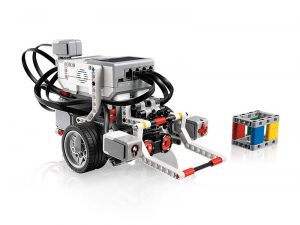 FLL students create and build innovative solutions using EV3 robots. These robots can then be coded to navigate a themed map (changes every season) and complete as many obstacles as they can. Similar to FRC, there are multiple levels of competition, where the winners will advance to the next level. First and foremost, however, FLL is about teamwork and innovation.
This is represented in their core values:
Discovery
Innovation
Impact
Inclusion
Teamwork
Fun
as well as the FIRST philosophies of Gracious Professionalism® and Coopertition®!
Many of Montclair Robotics' members participated in FLL when they were in middle school.
Read more on the First Lego League website: https://www.firstlegoleague.org/