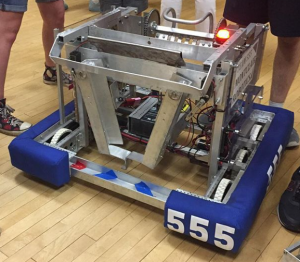 Big Louie has Big Gains.
If you're unfamiliar with the game, check out the animation here!
https://www.youtube.com/watch?v=EMiNmJW7enI
Ranked 4th and 7th at Bridgewater and Montgomery during the 2017 STEAMworks Season, Big Louie climbed his way up. With a 775 pro powered chain "comb," Big Louie spooled the rope he climbed with nearly 100% accuracy, activating the Airship's Touchpad.
Let's take a few steps to see how Big Louie got there.
After careful placement, Big Louie delivers a gear to the side of the airship before advancing past the Base Line, thanks to the high powered 4 CIM, 6 Plaction Wheel Tank Drive. With only 90 pounds to carry around, Big Louie flies from end to end with an approximate top speed of 11 m/s.
Drifting around is important. Big Louie accepts gears from the loading station and wheels them over to the airship with success. The metallic flippers open to release the gear, sending it up to the Pilot.
With a quick cycle time, Big Louie helps his team prepare for the Airship's takeoff. And advance to MAR Regionals.