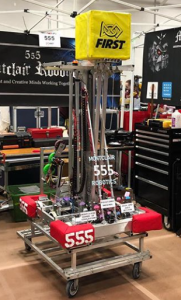 Meet Harold, named after Harold and The Purple Crayon.
If you're unfamiliar with the game, check out the animation here!
https://www.youtube.com/watch?v=HZbdwYiCY74
Equipped with a single CIM Motor powered chain elevator lift Montclair Robotics rose to the challenge of the 2018 Power Up Season. Fortunately, it was able to extend the rung, creating a buddy bar system and allowing for alliance members to climb. Majestical, the robot elevated itself far above the 1-foot requirement.
Armed with a set of three compliant wheels powered by BAG Motors, the intake (after a series of revisions and a couple of minor accidents), drew in milk crates. Fast and furious, Harold ejected milk crates into the portals, switches and toward alliance members.
To give Harold his base 4 CIM Motors power a six Plaction wheel tank drive, center wheel dropped, that grazed around the switches and scales. At full speed, Harold approaches 8 m/s.
But Harold is an extremely creative bot. During the autonomous period, a crate is placed on an upper rail of the "Buddy Bar" System and uses gravity as well as a bit of force to activate its switch.